Hello all I will be hosting a small contest all you have to do for this is find as many wolves as you can by the 20th(4 more days) then post a screenshot here of how many wolves you have. The winner will receive 30 diamonds when the server comes back up!

Rules:(follow them if you want but you will know you cheated to win the contest if you dont follow them)
No spawning bones for this
No spawning wolves( not telling you how. You can use a trick to spawn them eg: putting torches around your house)
MUST BE DONE IN SINGLEPLAYER
No cheating.(xD)

Have fun and good luck also I'll be entering this as well;)



Posts

: 32


Activity

: 5394


Join date

: 2011-03-06



Here are all the wolves i got.
Theres not much......
dont wana brag but only 703 wolves....... as i said not much and u know DEFINITLY NOT HACKS as u can see on my top left (Flying) and the building made out of Pure Diamond blocks!)
lol ok maybe i cheated just a bit...... ONLY A BIT

I know what ur all saying, yup im gonna lose cose i dont have enough but i still tried.......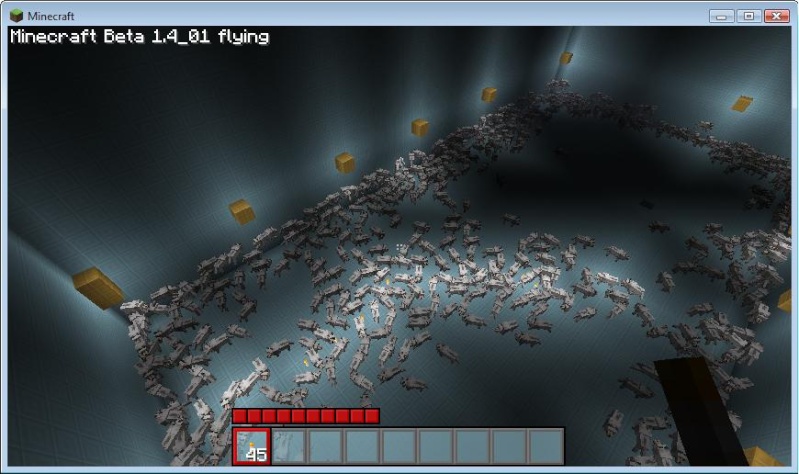 took this snapshot yesterday




got to admit, thnx to this, I got sooo many NEW mods and im starting a series next week in singleplayer and might invite only 1 or 2 people to my server.....
anyways i will post it in Anouncement soon so thnx Mike!




Posts

: 69


Activity

: 5432


Join date

: 2011-03-13


Location

: Located UNDERURBED!!!



Ahahahahahahahaha no hacks xD



Posts

: 180


Activity

: 5531


Join date

: 2011-03-05


Age

: 22


Location

: New Zealand




---
Permissions in this forum:
You
cannot
reply to topics in this forum